Workshop & Networking between Romania and Germany in Cluj-Napoca
Since 25 years there is exchange and cooperation between Social Workers and students of Social Work from Cluj-Napoca (Romania) and Fulda (Germany).
2018 is the first open-space workshop-meeting in Cluj-Napoca to start NEW exchange and cooperations.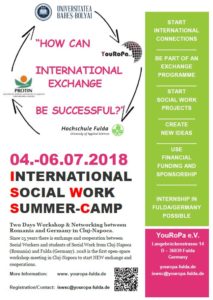 Interesting for…
Social Worker from Cluj-Napoca who are open for international exchange & projects
Students of Social Work who want to start new projects
What will be done at the International Social Work Summer-Camp?
you can take part for one or two days
there will be an open-minded and calm friendly network atmosphere
the programm will be constructive, relaxed and especially focused on the future
the german group consists of about 13 people (Social Workers and Students of Social Work and Social Science) in the age of 19 to 40 years
just pleasure about international social work
Details about the program:
you can decide whether you want to be part of just one day or both of the days
each day will start at 10 am with an get together and time for exchange
during the day there will be small workshop-groups who work on the question: "How can international Exchange be successful?"
the workshop will end at 4 pm
there will be one big dinner at the last day
Short Details and Contact:
Date & Time:                 04.-06.07.2018
Place:                               Cluj-Napoca (co-working-space or a room at University)
Programm:                   10:00 until 16:00
Free of Charge!
Registration and Contact:  iswsc@youropa-fulda.de